London: Claridge's
Claridge's: Directions to the most inspiring exhibitions and events. Tickets to that must-see show. Or just a spot of shopping advice.
Somehow Claridge's simply knows your are there, no need to announce yourself. At Claridge's, your every wish, is their command!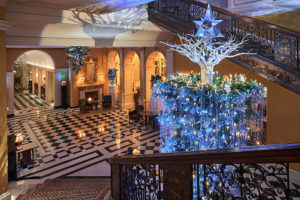 Whether you are a solo traveller or visiting as a couple or family, our expert concierges are on hand to make sure your stay is as effortless as it is exciting. Whatever the time – and whatever your request – you need only ask.
There is something magical about a Claridge's room or suite. As well as being among the most spacious in London, each one has been beautifully designed and furnished, complete with many thoughtful, luxurious touches. While every room is unique, all share the unmistakable Claridge's blend of comfort and glamour.
At Claridge's, the bars and restaurants are far from places simply to eat and drink. They are places to discover new flavors as well as to revisit favourite classics. Each of our restaurants and bars offers a different experience – all underpinned by impeccable service.